MADjam offers more than 40 hours of social dancing, 20+ contest divisions to cheer, watch or enter, and 50+ hours of workshops all in one SUPERSIZE dance weekend! Special programs include our celebrated "Newcomer Welcome Program" and many other opportunities — you select the options that are most fun for you! We want you to have a great time at our party.
Your weekend EZpass includes access to your choice of workshops in the Grand and Regency Ballrooms. Additional workshops in Lake Anne and Lake Fairfax require advance reservations through the self-serve online ticketing portal.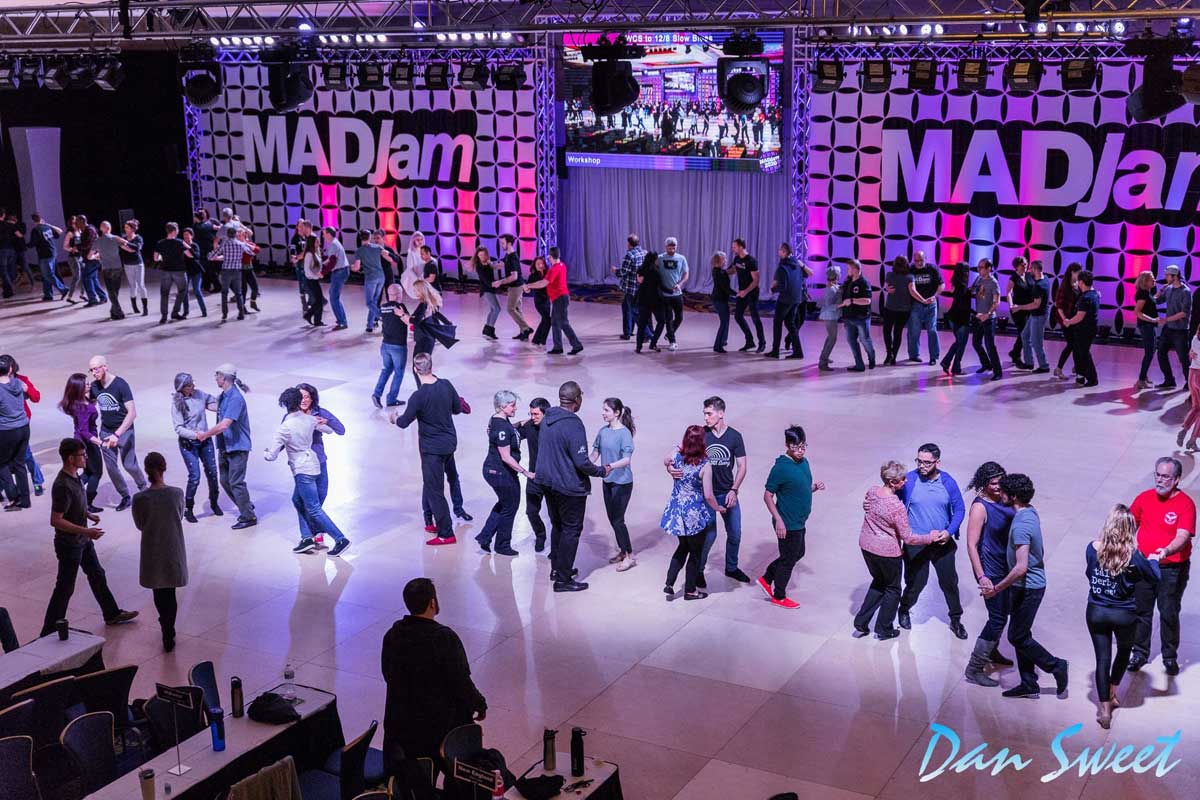 SELF-SORTED WORKSHOPS 
All= Appropriate for all levels. 
L1= Fundamental patterns and techniques with basic partnering & musicality concepts. 
L2= Requires fluent recall & application of pushes, passes, turns, whips, and basic variations. 
L3= Complex patterns or detailed technique. Significant previous experience needed.
GUIDED LEVEL WORKSHOPS
Masters = age 50+
Nov, Int, Adv, AS etc  = Entry to these workshops is based on WSDC competition levels. You can look up your level
here.
Teaching = Open to anyone who teachers or has an interest in pedagogy
ADDITIONAL WORKSHOP DETAILS: 
Grand Ballroom: 60-minute workshops in our spacious, beautiful main ballroom are open to all. No reservations.
 
Regency Ballroom: Supersize 90-minute "L2" and "L3" workshops with world-class teachers. No reservations. 
Lake Fairfax: In-depth 90-minute "L1" workshops, and various Newcomer Welcome Program offerings. Free reservations are available on our registration portal, with a per-person limit of five reservations. Drop-ins are also welcome on a space-available basis. 
Lake Anne: Deep-focus learning with small peer groups. Some workshops are just for those at specific ages (50+), interests, or World Swing Dance Council competition levels.

Find your WSDC level here.

Limited capacity. $20. Reservations required. See the registration portal for more information on each workshop.
Please note that workshops in the Grand and Regency ballrooms do not need reservations. For Anne and Fairfax, workshop reservations will remain open through the online portal until workshops begin or pre-reserve capacity is reached. Please promptly release any unneeded reservations at this link to allow another person to plan to attend.